---
Populations of American kestrels are declining across the US. To try to reverse this decline, the Ohio Bird Conservation Initiative, Ohio Ornithological Society, the American Kestrel Partnership, and Ohio Division of Wildlife have partnered with the Ohio Department of Transportation to take advantage of some rather unconventional habitat. Kestrels search for insects and other food in large, open areas of short grass, a habitat type that is common along highways. However, kestrels nest in cavities, which are not common along highways. Our innovative nest box trail program utilizes suitable habitat along highway right-of-ways by increasing nesting opportunities.
Interested in starting your own kestrel highway nestbox program? Learn more by downloading our American Kestrel Highway Nestbox Program Guide.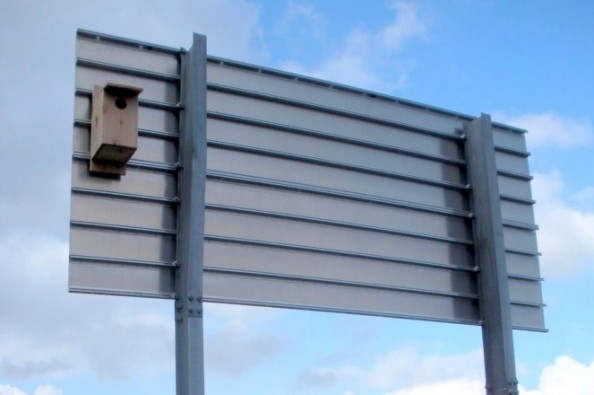 In 2013, we installed 25 nest boxes on the backs of highway road signs in Wyandot county, Ohio. The boxes were built by the OOS board and volunteer Charles Zepp using funds from the American Kestrel Partnership.
In 2014 we installed an additional 16 boxes in Crawford county with the assistance of Crawford Park District, bringing our total to 41 boxes!
Volunteers from the University of Findlay and Crawford Park Distict monitor our boxes to see which ones are used and how many young are produced. We can use these results to help guide where we install future boxes. In 2013, our volunteers found 8 nestlings in two occupied boxes. In the 2014 nesting season, 6 of our boxes were used by kestrels, and produced 22 young!
In 2015, our partners at Brukner Nature Center installed 11 boxes on I-75 near Troy as part of this initiative. This brings our project total to 53 boxes across the state!
Project Supporters
The following organizations  and individuals have generously supported our project through
donations or volunteering. We couldn't do this without them!
Ohio Ornithological  Society
Crawford Park District
Brukner Nature Center
American Kestrel Partnership
ODNR Division of Wildlife
Ohio Department of Transportation
Tom Bain
Tim and Laura Dornan
Scott Frame
Matthew Giovanni
Linda Leonhard
Elizabeth Pente
Jill Robinson
Al La Sala
Susan Scharenberg
Marcia Shaffer
Wendy Smith
Sara Worley
Charlie Zepp
Jan Kennedy
Warren Uxley
Lee and Sue Tooman
Bill Fisher
Madeleine Kuieck
Tessa Brown
Tracy Swanson
Katie Mehlow